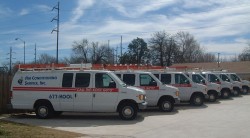 "Through all of the growth we have seen, one thing hasn't changed: A happy customer is job #1."
                                       – Shell Kincheloe, Owner of Air Conditioning Service, Inc. 
Air Conditioning Service, Inc. is the top choice for commercial and residential heating and air conditioning anywhere in Oklahoma. Being dedicated to quality work, great service and the fact that we provide 24-hour service to our customers may have something to do with that. However, our customers also know that they can rely on a local company that has been doing business in Oklahoma for decades. Air Conditioning Service, Inc. was founded in 1988 by President, Shell Kincheloe. AC Service focused on residential heating and air service and saw significant growth through Residential New construction in the 90′s. In 1995, Richard Acebo joined the company as V.P. and co-owner. Together, the two have transformed the company to a large fleet of trucks, as well as a large, well-trained family of employees. As the company diversified beyond residential replacement and new construction, they developed an in-house sheet metal shop to pursue large commercial and industrial tasks. Some notable businesses include Wal-Mart Supercenters, Academy, Bed Bath & Beyond, Best Buy, Hilton, Sam's Wholesale, and many others. Notable residential projects include Bob Funk, Joe Cooper, Jim Williams and many more.